Moderators: Jomster, BigJackBrass, RogerBW
Whartstock 2011: Monsters! Monsters!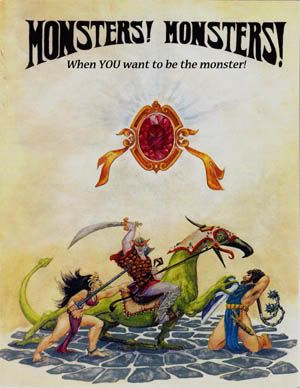 The conventions of adventuring are turned upside down as we give the monsters a chance to shine in
Ken St. Andre's
classic 1976 role-playing game. Bunco Keep is under attack from the combined forces of General Hangnail and Overlord Spleen, but not every monster is a mindless ravening stereotype... just some of them. Quite a few, come to think of it...
Monsters! Monsters!
is available as a download on
DriveThru RPG
or in print from the publisher,
Flying Buffalo Inc.
A limited number of signed copies may be available
direct from the author.
This is the complete adventure, recorded at our Whartstock mini-con in 2011.
Download
The Players:
Jon:
The GM
Amelia:
Benny the Shoggoth
Nick:
Margot the Lamia
Mark:
Jeremy the Dark Elf
and a late appearance from Martin as
Shifty Pitflaps the Goblin
RogerBW has received thanks from the following for this post:
Location: Near London, UK
Thanks: 4 given/67 received
---
I didn't play in this, being in another game at the same time in the other room, but I can recommend it lots.

Great fun!
Location: London
Thanks: 0 given/4 received
Playing: Cthulhu, Pendragon, Traveller
Running: Sadly nothing at the moment
Planning: World domination
---
---
Return to Whartson Hall Gamers
Who is online
Users browsing this forum: No registered users and 1 guest