[Precis Intermedia] The Amazing 8in1 Die! Pre-Order Now
Precis Intermedia
8 FUNCTIONS IN ONE SIX-SIDED DIE
Precis Intermedia is now taking pre-orders on the Amazing 8in1 Die™. One die provides 8 functions: D6, DF, Averaging Die, 2D6, D2, D3, Yes/No, and Directional.
Dice will ship when they arrive from the manufacturer.
Be the first to get these amazing 8in1 dice!
Projected ship date is January/February 2016.
These innovative multi-purpose dice are ideal for your gaming library:
D6: standard six-sided die, numbered 1 to 6.
Averaging Die, common among some wargames, numbered 2, 3, 3, 4, 4, 5.
Yes/No, Odd/Even, Pass/Fail, or Right/Left, represented by a Y or N, and conditional + (and) or – (but).
Fudge/FATE: +/-/Blank.
2D6: one die to determine 2D6, choosing one of two numbers appearing closest to you. While the probabilities are not the same, this comes in handy when you only have one die.
D2, numbered 1 to 2.
D3, numbered 1 to 3.
Directional: arrow points in rolled direction.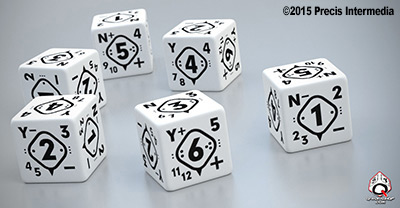 8in1 Design ©2015 Precis Intermedia. 8in1 Die, 8in1 Dice, and The Amazing 8in1 Die are trademarks of Precis Intermedia. All rights reserved.